Baby / Toddler Bow Tie
Baby & Toddler Bow Ties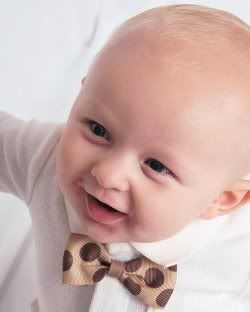 I love these little bowties. They clip on from the side, so that they can be worn with any button or snap down top. They can also be adjusted to a comfortable height for baby, so that it doesn't rub his neck or chin. They look especially cute in polka dots, I love the big dots. I have sold these for weddings, and other special events. If you need special colors or combinations, please ask me! I can make multiple layers for matching to a wedding's colors, or make other accommodations. They measure approximately 1.5"x3" and are made from grosgrain ribbon, not silk like a traditional bowtie. These can be pulled on, drooled on, spilled on, etc. Just wash it by hand and air dry. They are appropriate for little boys from newborn to about size 4T, beyond that size they would look small. If you need larger, please see our Big Boy bowties. **Please note, when matching between the Baby and Big Boy sizes, there can be some dye lot issues. Quite often the match is perfect, but not always**

**New options!**

You now have the option on the baby clip on tie, or an elastic neckstrap. Elastic will be white to hide under most shirts without being visible. If you are unsure whether you'd like elastic or a clip on, I'd recommend starting with the elastic neckband, it seems to be more popular, and I tend to use elastic the most for my own boys.

You also now have the option of one or two layers in your tie. Two layers looks more like a traditional tuxedo bowtie, while one layer has a little less bulk.